Step Seven
"Sharing Jesus with Those in Recovery"
To see men become Christ-centered, set free from their addictions, and transformed into leaders.
Faith-Based Recovery Community
We partner with Step Seven, a faith-based recovery community helping men find freedom from their addictions, and teaching them the leadership skills necessary to move forward with their lives. We believe that lasting and sustainable sobriety comes from a relationship with Jesus Christ. In sharing the Gospel through individual recovery coaching, small groups, sober-living homes, and recovery church gatherings, we provide the environment necessary to break free from the bondage and slavery of addictions.
Step Seven is all about changing lives and restoring leaders to the community. The men in our ministry come from a wide variety of backgrounds. Many of them have tried traditional recovery methods only to see themselves fail time and time again. When those struggling with drug and alcohol addictions come to the realization that they need help, their lives are often surrounded by negative circumstances and relationships, leaving them void of positives and accountability. Our aim is to replenish the positives and accountability through a recovery program that consists of work, worship, and the Word while surrounding them with a loving and encouraging community of maturing Christians that have walked in their shoes.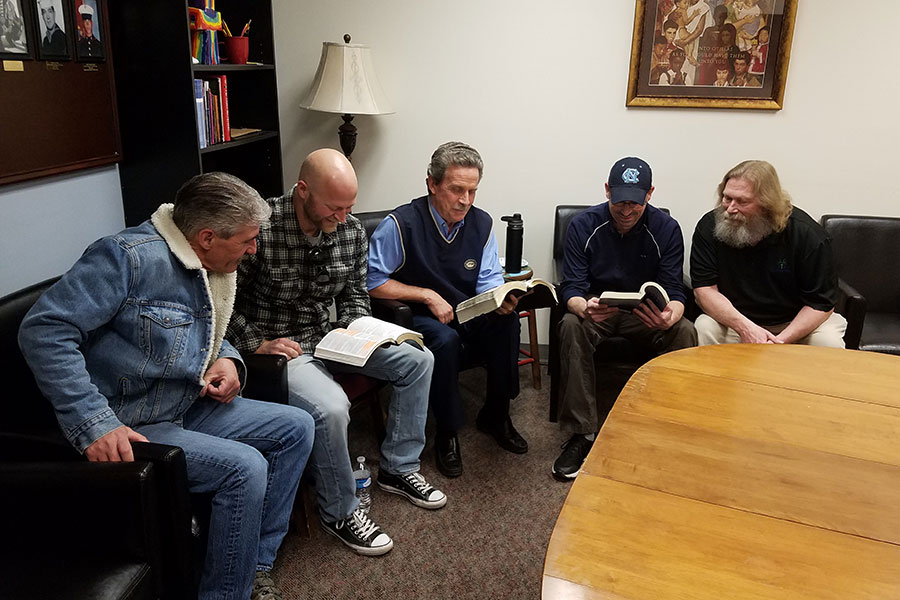 Christ-Centered Recovery Program
Step Seven's Executive Director is a certified recovery coach who specializes in substance abuse recovery. Along with the Step Seven staff and other men who have become leaders within the ministry, he works hand in hand with the men in our Christ-centered recovery program. Together, they work toward cleaning up existing challenges from the old way of life, and taking the steps necessary to move forward into a new life of sobriety with Christ. Step Seven's vision for every man is to see them become Christ-centered, set free from their addictions, and transformed into leaders.
Step Seven Sober-Living Homes
Step Seven has three sober-living homes. By keeping the price of rent as low as possible for our residents, Step Seven aims to help reduce the stress involved with getting one's life back in order. Our sober-living homes provide a safe and peaceful long-term living arrangement for men as they move forward as sober, Christian men. These Christ-centered homes foster healthy relationships and offer men the structure and accountability needed to accrue significant sobriety time.
Step Seven: Contact Info

P.O. Box 3167 Parker, CO 80134
Office Hours
Monday through Thursday 9:00am – 6:00pm
Friday 9:00am – 5:00pm